NSW Food Safety Supervisor Certificate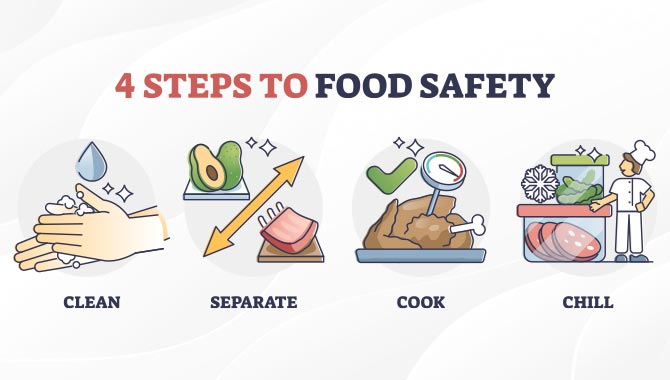 NSW Food Safety Supervisor short course is applicable to food handlers such as cooks, chef, caterers, kitchen hands, food and beverage attendants who directly handle food or food contact surfaces such as cutlery, plates and bowls during the course of their daily work activities. Food handlers also handle food safely during the storage, preparation, display, service and disposal of food. It requires the ability to follow predetermined procedures as outlined in a food safety program. This includes restaurants, cafes, clubs and hotels; tour operators; attractions; function, event, exhibition and conference catering; educational institutions; aged care facilities; correctional centres; hospitals; defence forces; cafeterias, kiosks, canteens and fast food outlets; residential catering; in-flight and other transport catering.
Potential Career Pathway:
Food Safety Supervisor.
Essential Outcomes:
Identify food hazards
Report unsafe practices
Report incidents of food contamination
Use safe food handling practices in food handling work functions
Use the correct methods of controlling food hazards.
Who could enrol:
This course is suitable for a variety of learners such as:
Those employed within the hospitality industry who would like to obtain new skills and knowledge in food safety and/or have their skills recognised.
This Food Safety Supervisor certificate includes two (2) units of competency:
SITXFSA005 Use hygienic practices for food safety.
SITXFSA006 Participate in safe food handling practices.
Food Safety Supervisor short course learners:
Use hygienic food handling practices in line with organisational procedures in correct hand-washing procedures
Use uniform and personal protective equipment (PPE) appropriately
personal health and hygiene practices and hygienic food service effectively
Handle food safely during the storage, preparation, display, service and disposal of food.
Follow predetermined procedures as outlined in a food safety program.
Duration:
Up to 4 hours' on-site observation and theory.
This is employment-based whereby the learners complete their pre-assessment at their workplace prior to Trainer/Assessor visit. Trainer/Assessor conducts an on-site visit to the learners' workplace, gathers work-based evidence, observes and goes through the theory with the learner.
Learner Commitment
In order to undertake this short course, the learner commitment is expected to be at a minimum of 4 to 6 hours. This includes pre-assessment, theory and observation.
Training delivery method:
This is an employment-based short course. No training is scheduled for the delivery of this course.
Work placement:
No work placement is required.
Assessments method:
Written/oral, observation/demonstration assessments and work-based evidence.
Age:
Minimum 18 Years old.
LLN:
Completion of LLN Assessment for short course.
Academic requirements:
There is no academic entry requirement for this Statement of Attainment.
Physical requirements:
Physical requirements include daily activities which include performing tasks standing and moving for long hours, multi-tasking in a high-pressure environment, working under high temperature, dealing with cool room and freezer temperatures, monitoring temperature of food using thermometer to ensure high standards of food safety, monitoring and identifying hazardous food.
Technology requirements:
No technology requirement is applicable.
USI Number:
Valid USI number is required. Ask us if you require any assistance in creating it on your behalf.
Other requirements:
Valid and current email address.
Work placement
Work placement is not applicable for the completion of Food Safety Supervisor certificate.
Payment Options
REACH acknowledges that our learners may require flexibility in how they pay their fees. To support our learners, we offer a structured Payment Plan which could be discussed.
Payment Plan:
You have the flexibility to make payments as per an agreed amount and duration. Please note that REACH does not accept any payment of fees over $1500 at a time.
Government funded:
If you enrol under a government subsidised option, your fees will be in accordance with the funding requirements as defined by the relevant funding body. Please speak to the enrolment officer for further details.
ACT – Skilled Capital
NSW – Smart and Skilled program
WA – Jobs and Skills
*If you are not eligible for government funding, please contact our support team for other options
Enquire Now
Why REACH?
Flexible Training Options
Classroom based
Online
Blended
Workplace based
Our National Presence
Greater Sydney region
Hunter & Maitland region
Riverina region
ACT – Belconnen, Queanbeyan
WA – Mandurah, Perth
*Not all courses are offered from all locations. Please check at the time of application.
Learn from the Experts
All trainers are experienced industry practitioners.
Government Subsidised Training
*Not all courses are offered under all of the above mentioned government subsidised options. Please check at the time of application. Eligibility criteria apply.