This training is subsidised by the NSW Government.
Smart and Skilled is a reform of the NSW Vocational Education and Training (VET) system. It's helping people in NSW get the skills they need to find a job and advance their careers.
Smart and Skilled provides eligible students with:
An entitlement to government-subsidised training up to and including Certificate III
Government funding for higher-level courses (Certificate IV and above) in targeted priority areas.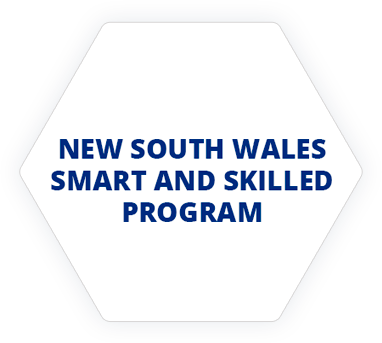 | | | | | | |
| --- | --- | --- | --- | --- | --- |
| Code | Qualification Title | First Qualification | Second or Further Qualification | Concession* | Apprenticeship/ Traineeship (A/T) |
| SIT20421 | Certificate II in Cookery | $880 | $1,050 | $160 | N/A |
| SIT20316 | Certificate II in Hospitality | $880 | $1,050 | $160 | T |
| SIT20322 | Certificate II in Hospitality | $880 | $1,050 | $160 | N/A |
| SIT20416 | Certificate II in Kitchen Operations | $880 | $1,050 | $160 | T |
| SHB20116 | Certificate II in Retail Cosmetics | $880 | $1,050 | $160 | T |
| SHB20121 | Certificate II in Retail Cosmetics | $880 | $1,050 | $160 | T |
| BSB20120 | Certificate II in Workplace Skills | $880 | $1,050 | $160 | T |
| SHB30115 | Certificate III in Beauty Services | $2,130 | $2,550 | $240 | N/A |
| SHB30121 | Certificate III in Beauty Services | $2,130 | $2,550 | $240 | N/A |
| BSB30120 | Certificate III in Business | $1,320 | $1,580 | $240 | T |
| SIT30816 | Certificate III in Commercial Cookery | $2,130 | $2,550 | $240 | A |
| SIT30821 | Certificate III in Commercial Cookery | $2,130 | $2,550 | $240 | A |
| CHC32015 | Certificate III in Community Services | $1,450 | $1,750 | $240 | T |
| CHC30121 | Certificate III in Early Childhood Education and Care | $1,600 | $1,930 | $240 | T |
| SIT30516 | Certificate III in Events | $1,450 | $1,750 | $240 | T |
| SHB30416 | Certificate III in Hairdressing | N/A | N/A | N/A | A |
| SIT30616 | Certificate III in Hospitality | $1,450 | $1,750 | $240 | T |
| SIT30622 | Certificate III in Hospitality | $1,450 | $1,750 | $240 | T |
| CHC33015 | Certificate III in Individual Support | $1,450 | $1,750 | $240 | T |
| SIR30216 | Certificate III in Retail | $1,450 | $1,750 | $240 | T |
| SIT30116 | Certificate III in Tourism | $2,130 | $2,550 | $240 | T |
| CHC43015 | Certificate IV in Ageing Support | $1,990 | $2,320 | $240 | T |
| BSB40120 | Certificate IV in Business | $1,580 | $1,850 | $240 | T |
| CHC42015 | Certificate IV in Community Services | $1,990 | $2,320 | $240 | T |
| CHC43115 | Certificate IV in Disability | $1,990 | $2,320 | $240 | T |
| SIT40416 | Certificate IV in Hospitality | $2,360 | $2,750 | $240 | T |
| SIT40422 | Certificate IV in Hospitality | $2,360 | $2,750 | $240 | T |
| BSB40520 | Certificate IV in Leadership and Management | $1,580 | $1,850 | $240 | T |
| SIR40316 | Certificate IV in Retail Management | $1,570 | $1,840 | $240 | T |
| CHC40221 | Certificate IV in School Based Education Support | $1,990 | $2,320 | $240 | T |
| SHB50121 | Diploma of Beauty Therapy | $3,750 | $4,230 | N/A | N/A |
| BSB50120 | Diploma of Business | $2,530 | $2,850 | N/A | T |
| CHC52015 | Diploma of Community Services | $4,420 | $4,970 | N/A | T |
| CHC50121 | Diploma of Early Childhood Education and Care | $4,420 | $4,970 | N/A | T |
| SIT50316 | Diploma of Event Management | $3,750 | $4,230 | N/A | N/A |
| BSB50420 | Diploma of Leadership and Management | $2,530 | $2,850 | N/A | T |
| SIT50116 | Diploma of Travel and Tourism Management | $3,750 | $4,230 | N/A | N/A |