SHB30416 – Certificate III in Hairdressing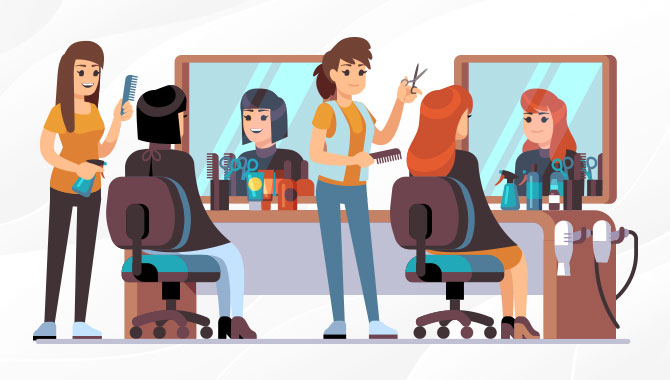 This qualification reflects the role of hairdressers who use a range of well-developed sales, consultation and technical skills and knowledge to provide a broad range of hairdressing services to clients. They use discretion and judgement to provide client services and take responsibility for the outcomes of their own work. 
Potential Career Outcomes
Who could enrol:
This course is suitable for a variety of learners such as: 
Those who would like to obtain new skills and knowledge, including those who are changing careers
Those who wish to obtain a qualification to gain employment as a beautician
Those employed within a salon or spa and wish to obtain a qualification and/or have their skills recognized.
This qualification includes 28 units of competency which comprises of 21 core and 7 elective units. Elective units have been carefully selected based on the industry consultation to ensure the learner achieves the desired vocational outcomes of the course.
Units of Competency:
Core Units:
SHBXIND002 Communicate as part of a salon team 
SHBXWHS001 Apply safe hygiene, health and work practices 
SHBXCCS002 Provide salon services to clients 
SHBHBAS001 Provide shampoo and basin services 
SHBHIND001 Maintain and organise tools, equipment and work areas 
SHBHTRI001 Identify and treat hair and scalp conditions 
SHBHDES003 Create finished hair designs 
SHBHCLS002 Colour and lighten hair 
SHBHCLS003 Provide full and partial head highlighting treatments 
SHBHCLS004 Neutralise unwanted colours and tones 
SHBHCLS005 Provide on scalp full head and retouch bleach treatments 
SHBHCUT001 Design haircut structures 
SHBHCUT002 Create one length or solid haircut structures 
SHBHCUT003 Create graduated haircut structures 
SHBHCUT004 Create layered haircut structures 
SHBHCUT005 Cut hair using over-comb techniques 
SHBXIND001 Comply with organisational requirements within a personal services environment 
SHBXCCS001 Conduct salon financial transactions 
SHBHIND003 Develop and expand a client base 
BSBSUS201 Participate in environmentally sustainable work practices 
SHBHREF002 Straighten and relax hair with chemical treatments 
ELECTIVE UNITS
SHBHDES002 Braid hair 
SHBHCUT006 Create combined haircut structures 
SHBHCUT007 Create combined traditional and classic men's haircut structures 
SHBHDES004 Create classic long hair up-styles 
SHBHDES005 Select and apply hair extensions
SHBHBAS002 Provide head, neck and shoulder massages for relaxation 
SIRRINV001 Receive and handle retail stock
The above elective units have been selected based on the industry requirements and in relation to the vocational outcome. REACH for Training may consider offering other preferred elective units based on the applicable training package requirements.
Duration
Up to 36 months
Training delivery method:
Training is only delivered through the Traineeship/Apprenticeship program which is on-the-job training.
Assessments methods:
Written assessment, Role Plays, Project, Practical exercises, Workplace Observations.
Age:
Minimum 18 Years
English:
Year 10 or equivalent; or
Minimum 1-year work experience communicating in English
LLN:
Completion of LLN Assessment at Level 2 of Australian Core Skills Framework (ACSF).
Academic requirements:
Year 10 or equivalent; or
Completed a Certificate II or higher.
Physical requirements:
This qualification requires working in a hairdressing environment which involves: 
working for long hours standing and moving  
working in a high-pressure environment 
frequently reaching to cut or style hair 
frequently engaging with haircutting scissors, texturing and thinning shears 
frequently using chemicals, disinfectant products, lubricants and coolants  
frequently engaging with chemicals, adhesives, and electric clippers 
working with sharps equipment and tools for regular tasks. 
Technology requirements:
Even though it is not a mandatory requirement, given the current required workplace skills and attributes, we recommend that learners have technical skills such as the following:  
haircutting 
hair designing and hair colouring with the use of chemical and chemical reformation 
digital literacy 
computer skills 
communication 
customer service 
consultation  
sales skills.
USI Number:
Valid USI number is required. Ask us if you require any assistance in creating it on your behalf. 
Other requirements:
Valid and current email address 
No work placement is required for this qualification.
Payment Options
REACH acknowledges that our learners may require flexibility in how they pay their fees.
To support our learners, we offer a structured Payment Plan which could be discussed.
Payment Plan:
You have the flexibility to make payments as per an agreed amount and duration. Please note that REACH does not accept any payment of fees over $1500 at a time. 
Government funded:
If you enrol under a government subsidised option, your fees will be in accordance with the funding requirements as defined by the relevant funding body.
Please speak to the enrolment officer for further details.
ACT – Skilled Capital
NSW – Smart and Skilled program
WA – Jobs and Skills
*If you are not eligible for government funding, please contact our support team for other options
Enquire Now
Why REACH?
Flexible Training Options
Classroom based
Online
Blended
Workplace based
Our National Presence
Greater Sydney region
Hunter & Maitland region
Riverina region
ACT – Belconnen, Queanbeyan
WA – Mandurah, Perth
*Not all courses are offered from all locations. Please check at the time of application.
Learn from the Experts
All trainers are experienced industry practitioners.
Government Subsidised Training
*Not all courses are offered under all of the above mentioned government subsidised options. Please check at the time of application.Eligibility criteria apply.