SIT30821 – Certificate III in Commercial Cookery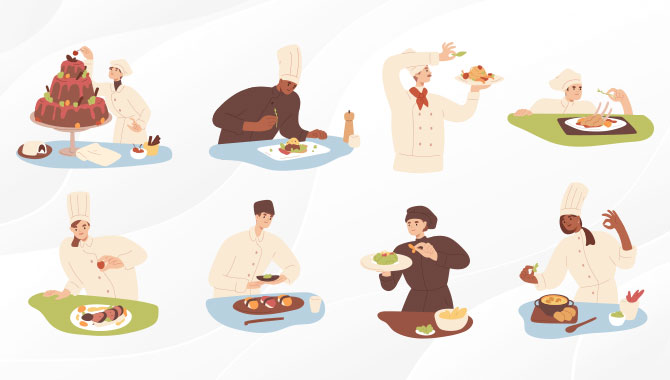 This qualification reflects the role of cooks who use a wide range of well-developed cookery skills and sound knowledge of kitchen operations to prepare food and menu items. Using discretion and judgement, they work with some independence and under limited supervision using plans, policies and procedures to guide work activities.
Potential Career Outcomes:
Cook
Chef
Sous Chef
Chef Partie
Who could enrol
This course is suitable for a variety of learners such as:
Those who would like to obtain new skills and knowledge, including those who are changing careers
Those who wish to obtain a qualification in order to gain employment in the hospitality industry
Those employed within the hospitality industry and wish to obtain a qualification and/or have their skills recognised.
This qualification includes 25 units of competency which comprises of 20 Core and 5 Elective units. Elective units have been carefully selected based on the industry consultation to ensure the learner achieves the desired vocational outcomes of the course.
Units of Competency
Core
SITHCCC023 Use food preparation equipment
SITHCCC027 Prepare dishes using basic methods of cookery
SITHCCC028 Prepare appetisers and salads
SITHCCC029 Prepare stocks, sauces and soups
SITHCCC030 Prepare vegetable, fruit, egg and farinaceous dishes
SITHCCC031 Prepare vegetarian and vegan dishes
SITHCCC035 Prepare poultry dishes
SITHCCC036 Prepare meat dishes
SITHCCC037 Prepare seafood dishes
SITHCCC041 Produce cakes, pastries and breads
SITHCCC042 Prepare food to meet special dietary requirements
SITHCCC043 Work effectively as a cook
SITHKOP009 Clean kitchen premises and equipment
SITHKOP010 Plan and cost recipes
SITHPAT016 Produce desserts
SITXFSA005 Use hygienic practices for food safety
SITXFSA006 Participate in safe food handling practices
SITXHRM007 Coach others in job skills
SITXINV006 Receive, store and maintain stock
SITXWHS005 Participate in safe work practices
Elective:
SITHCCC025 Prepare and present sandwiches
SITHCCC026 Package prepared foodstuffs
 SITHCCC040 Prepare and serve cheese
SITXCCS014 Provide service to customers
HLTAID011 Provide First Aid
The above elective units have been selected based on the industry requirements and in relation to the vocational outcome. REACH for Training may consider offering other preferred elective units based on the applicable training package requirements.
Duration:
Up to 36 months
Study commitment required:
We recommend a learner would require a minimum of 35-45 hours of commitment per week to complete this qualification. This includes participation in class, homework and self-study, work placement, assignment activities and assessments.
Training delivery method:
Training is only delivered through the Traineeship/Apprenticeship program which is on-the-job training.
Work placement:
No work placement required for this qualification.
Assessments method:
Written assessment, Role Plays, Project, Practical exercises, Workplace Observations.
Age :
Minimum 18 Years
English:
Year 10 or equivalent; or
Minimum 1-year work experience communicating in English
LLN:
Completion of LLN Assessment at Level 3 of Australian Core Skills Framework (ACSF)
Academic requirements:
Year 12 or equivalent; or
Completed a Certificate II or higher;
Physical requirements:
This course equips you with knowledge and skills required to provide services to people within a restaurant, hotel or café setting. It includes mandatory work placement in one of the mentioned hospitality settings where the daily activities include performing tasks standing and moving for long hours, working in a high-pressure environment, frequently engaging in manual handling tasks and working with equipment and tools for regular tasks.
Technology requirements:
This course is offered in a blended mode and the learning resources are accessible online through our Learning Management System. To ensure access to the learning resources, you would require:
a Personal Computer/Laptop/Tablet or any Mobile device
appropriate software e.g. Microsoft Office to engage with the learning and assessment
High speed internet connectivity
Audio-visual tools to engage with the interactive video materials
Basic computer skills to engage with the LMS and in live online learning sessions
USI Number:
Valid USI number is required. Ask us if you require any assistance in creating it on your behalf
Other requirements:
Valid and current email address
No work placement required for this qualification.
Payment Options
REACH acknowledges that our learners may require flexibility in how they pay their fees. To support our learners, we offer a structured Payment Plan which could be discussed
Payment Plan:
You have the flexibility to make payments as per an agreed amount and duration. Please note that REACH does not accept any payment of fees over $1500 at a time.
Government funded:
If you enrol under a government subsidised option, your fees will be in accordance with the funding requirements as defined by the relevant funding body.
Please speak to the enrolment officer for further details.
ACT – Skilled Capital
NSW – Smart and Skilled program
WA – Jobs and Skills
*If you are not eligible for government funding, please contact our support team for other options
Why REACH?
Flexible Training Options
Classroom based
Online
Blended
Workplace based
Our National Presence
Greater Sydney region
Hunter & Maitland region
Riverina region
ACT – Belconnen, Queanbeyan
WA – Mandurah, Perth
*Not all courses are offered from all locations. Please check at the time of application.
Learn from the Experts
All trainers are experienced industry practitioners.
Government Subsidised Training
*Not all courses are offered under all of the above mentioned government subsidised options. Please check at the time of application. Eligibility criteria apply.